SPECIFICATIONS
Size Chart
HOW TO USE
WASH CARE
SPECIFICATIONS
Fabric: Nylon Outer, Porous Mid-layer, Bamboo Inner
Sizes Available: S/M, L, XL
Size Chart
We recommend that you order a size up from your usual size due to slight shrinkage in the sock over time.
| INTERNATIONAL | SMALL /MEDIUM | LARGE | X-LARGE |
| --- | --- | --- | --- |
| EUROPE | 36-40 | 41-45 | 46-49 |
| UK | 3-7 | 8-10 | 11-14 |
| US (MEN) | 4-8 | 8.5-11 | 11-14.5 |
| US (WOMEN) | 5-9 | 9.5-12 | - |
| JP/CM | 22-25 | 25-27 | 27-30 |
HOW TO USE
When your wudhu is nullified and you need to take a fresh wudhu, instead of washing the feet you can wipe over the wudhu socks (masah)
Draw the fingers of your right hand once over the upper surface of your right sock starting from the toes to the ankle, then repeat the action this time using your left hand for the left sock.
For more information: bit.ly/wudhusocksfaq
WASH CARE
Wash: Maximum temperature 30°C, mild process or put it in a delicate bag. Do not bleach.
Dry: Turn socks inside out and squeeze excess water out before drying.
Drip line drying.
Tumble dry low.
Do not iron.
Do not dry clean.
Keep away from direct heat when drying.
TAKVA Wudhu Socks
Imam Ahmad bin Hanbal recorded that Aws bin Abi Aws said,
I saw the Messenger of Allah perform Wudu' and wipe over his Khuffs. He then stood up for prayer."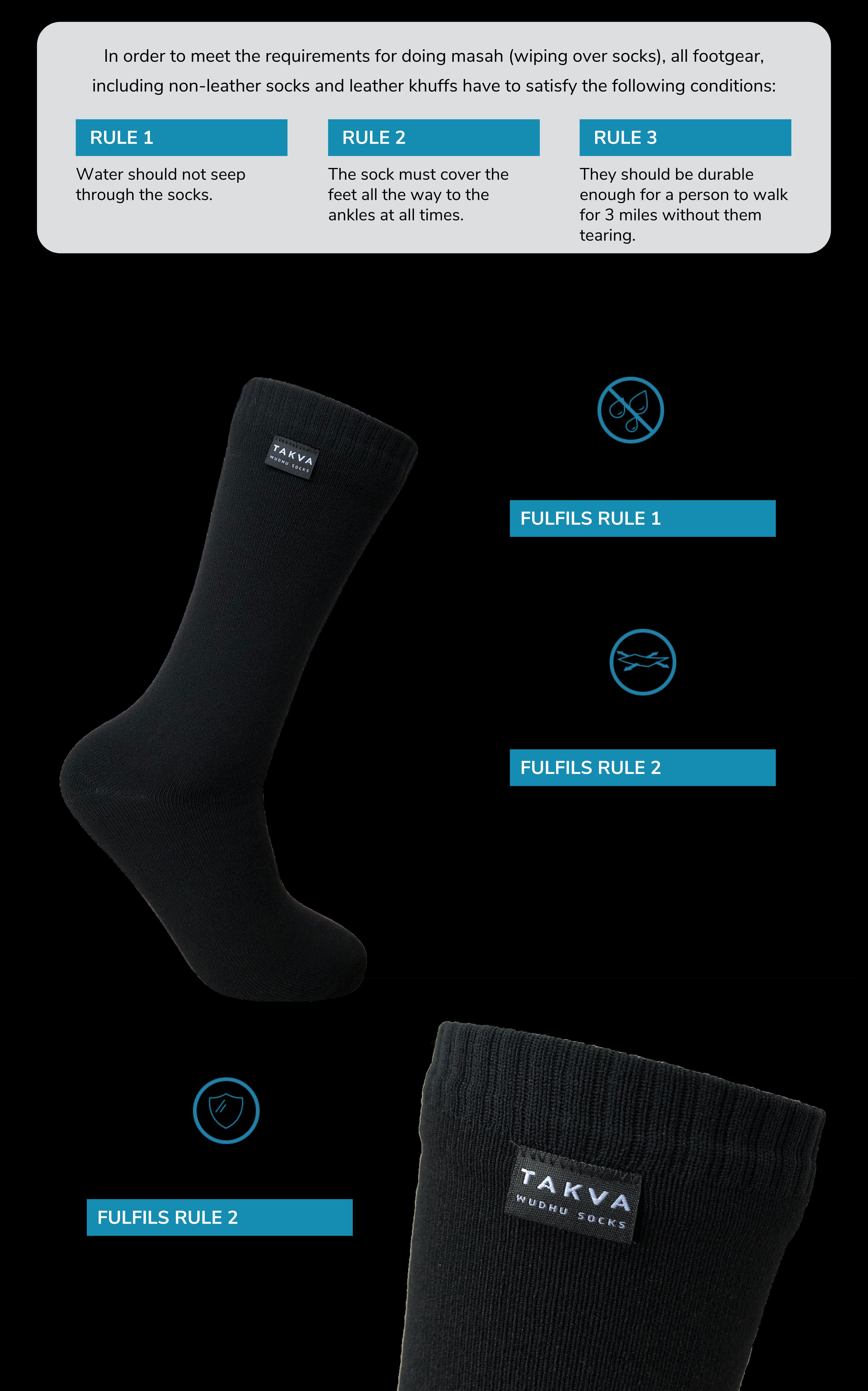 Because seeing is believing, we personally put together a video of the TAKVA Wudhu Socks being tested for its fit, waterproof-ability and durability.
WATERPROOF TEST
For masah to be valid, water must not seep through the socks. For this test, we dunked our feet into a bucket of water. Our feet remained dry.
3-MILE TEST
We tested the socks by walking in them -without shoes!- for a record 7km at a grainy, stony park path. There were no tears or holes.
INNOVATION FOR COMFORT
TAKVA Wudhu Socks uses a special 3-layered fabric technology that gives greater comfort and breathability to the skin. So even though our socks are 100% waterproof, they still allow moisture from the skin to escape.And because we pride ourselves in providing quality in comfort and use, we chose Bamboo Rayon for the innermost layer closest to the skin, because its softness, breathability and moisture-wicking goes unrivalled.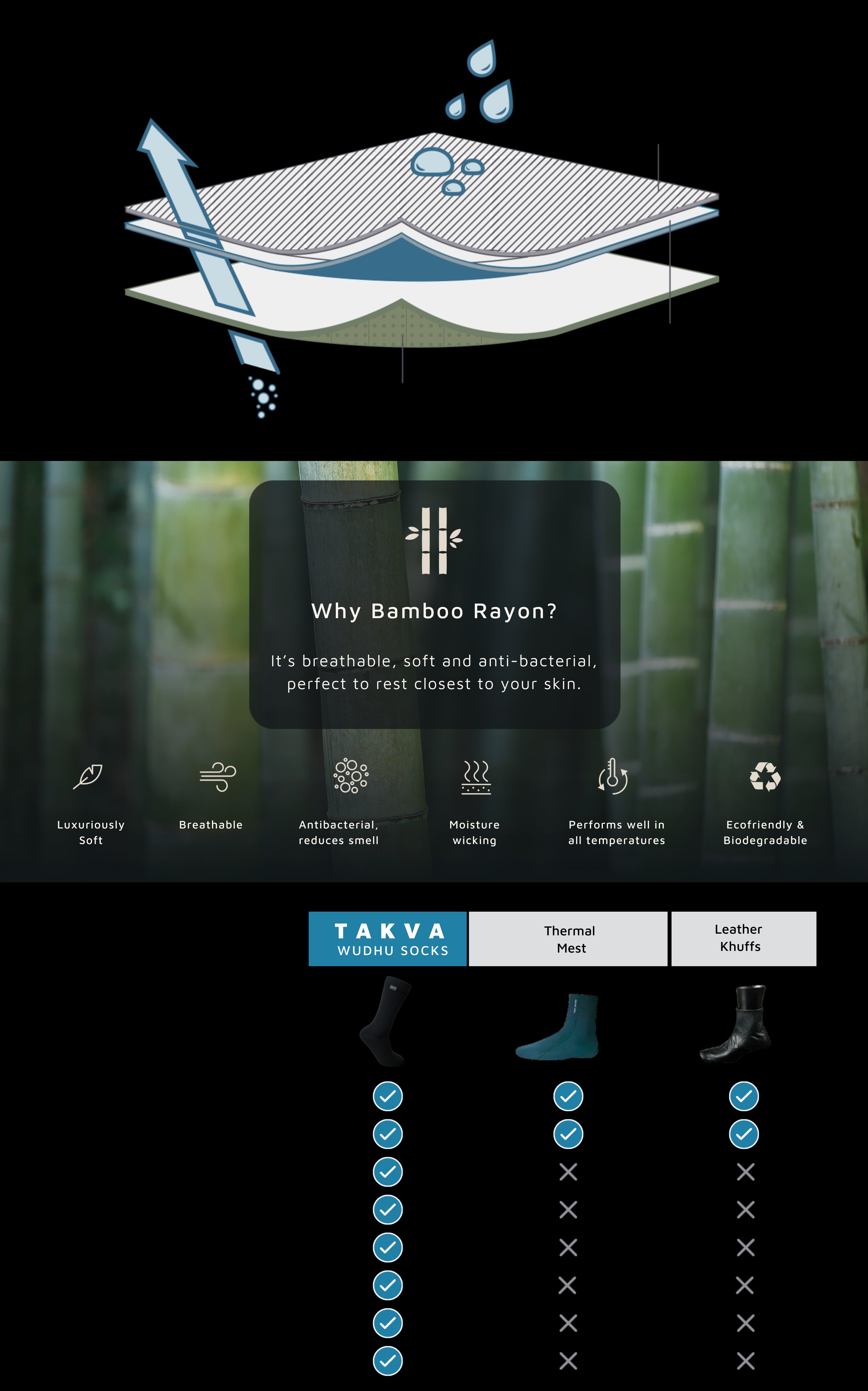 "TAKVA Wudhu Socks fulfills the requirement of a khuf especially in the Shafi'i mazhab and allows for simpler ablution by applying the concept of wiping over it (masah khuf) for ablution, making it a convenient fit for those who are always on the go."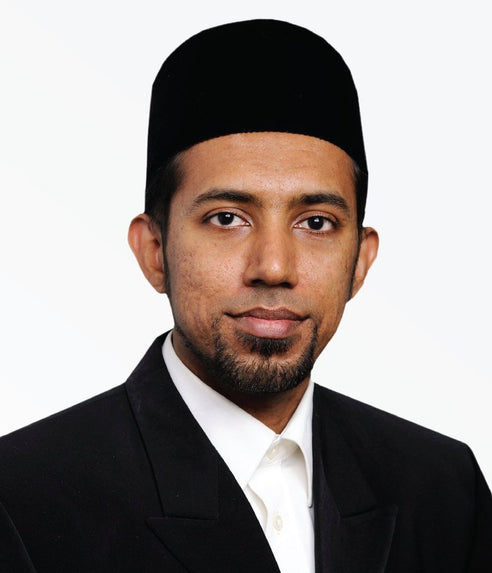 —USTAZ MOHAMMAD KHAID RAFI
BA Syariah (University of Madinah) and Msc Asian Studies; Studies of Interreligious in Plural Society; RSIS, NTU
"It meets the requirements of the "khuff" in jurisprudence (fiqh), and is a fantastic idea especially for working adults and students. Also, it will encourage more women to wear socks as the feet is aurat in the Shafi'i school of jurisprudence."
—USTAZAH FARHANA MUNSHI
Graduate of Daruzzahra, Institute of Traditional Islamic Sciences, Tareem, Yemen. Direct student of Hababah Umm Zain bint the Mufti of Tareem ARS Certified by MUIS
OUR IMPACT ON THE LIVES OF MUSLIMS WORLDWIDE
KEISUKE & SAKINAH
Doing Wudhu in Japan