A Chinese Muslim Convert's Budget Wedding
Posted by MERYEM CHIN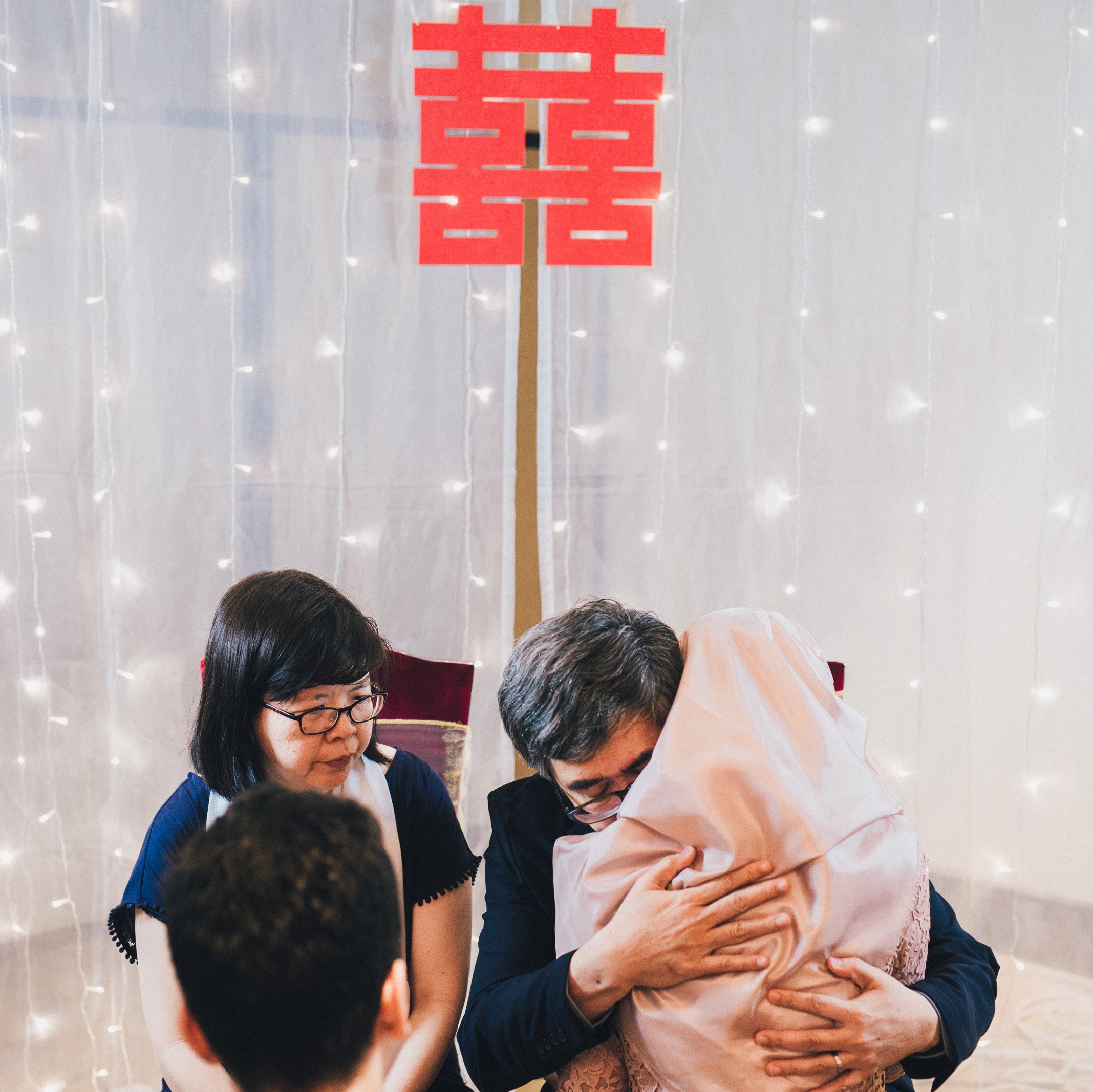 Being of Chinese descent, weddings are tricky business for me, a Muslim convert. From the sending of roast pig from the groom's family to the bride's family during Guo Da Li 过大礼 (the sending of betrothal gifts); the display of dragons and phoenixes on the bride's Qun Kua 裙裤 (traditional Chinese dress), both mythical and revered creatures in Chinese symbolism; the traditional Yum Seng with champagne or wine during the wedding banquet; and not forgetting, the extravagant wedding expenses that could go on an average of $30k-50k in Singapore.
Alhamdulillah since it has been 3.5 years since my reversion and my family has more or less accepted the fact that I am now a Muslim, they were more understanding of my Islamic practices and allowed me to plan my Chinese wedding the way I wanted. The fact that they were not hard up on following the traditional Chinese wedding practices too, played a huge part in easing the process. But of course, they still had to have Mian Zi 面子 ('show face'), lah.
So here, I'd like to share how I navigated through the planning of my very own Muslim-Convert-Chinese style wedding. For those non-Muslim brides-to-be, this post will also give you some ideas on how to keep your wedding expenses as low as possible!
1. If it does not go against Islam's teachings, keep the traditions alive.
My family had to grapple with the fact that I had become Muslim, and in Singapore, I also had to face the stereotype of having become 'Malay'. My ceremony was as 'Chinese' as it could possibly be- an indication that I am still culturally Chinese, along with my new Muslim identity.
Above: YES to Gatecrash forfeit drinks tastefully concocted by my sisters as a representation of the 酸甜苦辣 (Sour Sweet Bitter Spicy) life that we are about to embark on as a married couple, NO to heavily humiliating games that embarrass the groom.
Above: Serving of sweet soup after the gatecrash that is cooked with ingredients (longans, red dates, lotus seeds, etc.) that symbolises a blissful marriage. Of course, you should not believe that the soup itself brings you a blissful marriage. Keyword's 'symbol', people.
Above: The Chinese tea ceremony is a must, because it keeps the elders very happy. In Islam, there is nothing against serving tea to one's elders, in fact, showing piety and respect to your parents and elders is one of the most important aspects of being a Muslim.
2. Keep things simple... and low cost.
"The most blessed Nikah (wedding) is the one with the least expenses."

--Prophet Muhammad (s.a.w.)
This was a little hard to accomplish especially because I had to take into account everyone's demands, sourcing for a suitable venue (everything is expensive in Singapore!), and making sure that things still looked presentable (designer alter-ego alert!). In the end, most of the things that could be DIY-ed, was DIY-ed.
Above: Make your own artificial bouquet! It is 60-70% cheaper than real bouquets, larger, and lasts a lifetime! Best is that you get to control and play around with your favourite arrangements without worrying that you'll pull off all their petals by the time you're done.
The dress was reused from my Nikah, but because it was too short at the ankles I decided to get a tulle skirt from... what else, but TaoBao!
Cost: The flowers in the above bouquet was sourced for about 75% cheaper than it's real flower bouquet counterpart.
The dress and skirt cost me at least 50% cheaper than rented dresses.
Above: Design and print your own menus / placement cards and Thank-You notes. You'll have a wonderful experience selecting your own favourite fonts (if it's your thing), and cutting paper and round corners. You'll save close to 90%!
Also, Find your own door gifts. There's a meaning behind mine- Turkish towels and the Turkish Blue Eye- a small tribute to my husband's Turkish heritage. Sourced from IKEA and Etsy, and I plucked some bits off my baby's breath flowers to stick in.
Cost: More than 90% savings from all the invitations, menus, placement card designs combined. It would usually set you back by quite a fair bit if you engage someone to do it.
Above: Create your own 'dessert table'. I had faced a fix as I had initially planned to bake, however as I was living with my parents, my home kitchen is not halal. Hence I had to outsource. The tip is to scour FaceBook for halal home-based bakers, you may discover gems!
Cost: These beauties were 60% cheaper than the ones sold by well-known bakeries (except the Turkish Delights- they were from my husband's hometown), the cake was sponsored by my bridesmaids. On average, engaging a dessert table planner would set you back at least $300-$800.
3. Lastly, Don't forget to Da'wah. ;)
In a situation where your family, relatives and friends do not know much about Islam and may have serious misconceptions about it being a religion of terror and oppression to women, take this time to show your loved ones how beautiful Islam is, in your own little ways.  
Above: Placed these little frames with my favourite quotes from the Qur'an, on every table. Bought them at $0.90 from IKEA, spray-painted and written by hand. Makes a nice decoration too, definitely killing two birds with one stone.
---
In short, when planning a wedding, especially a cultural one, everyone has to have a mutual understanding of each other's differences, and compromise where ideas and opinions collide. My parents were overwhelmingly generous in this aspect- which Catholic parent would let their Muslim daughter put Quran quotes everywhere, even in the videos? Alhamdulillah. In the end, what matters MOST is the marriage between the two families.
Insha'Allah this post may give some ideas to those looking for a cheaper alternative for their weddings or celebrations! Happy planning!
--
Photo credits: The Vanilla Project
All designs by: Meryem Chin
Reviews (6 comments)
Collection 2019
Sale 70% Off
Title for image