Qibla Watch: The Smartwatch for Muslims
See your Prayer times and Qibla Compass on your wrist, at a glance. Easily control your locations and prayer notifications on the go.
Features
SPECIFICATIONS
The Story Behind
Features
SPECIFICATIONS
The Story Behind
Inspired by a (too) long journey to the Masjid
While on one particularly long trip in the car in the countryside in Fukuoka, trying to get to the nearest masjid which was 2 hours away, our co-founders Meryem and Mustafa were caught in traffic and needed to pray along the roadside. As they parked their car and stepped out, they faced a common struggle for Muslims traveling in unfamiliar places - finding the qibla, the direction of Mecca.
They pulled out their smartphones to use prayer apps that would point them in the right direction. However, the apps were slow to load due to a poor internet connection in the area. Frustration started to set in, and they realized the need for a reliable and convenient solution to address this problem.
From frustration sparked the seeds of the Qibla Watch idea
In that moment of frustration, a spark of inspiration ignited within Meryem and Mustafa. They looked at each other and shared a common thought: "What if we had a wearable device that could indicate the qibla direction instantly?" This seed of an idea laid the foundation for what would later become the Qibla Watch.
After returning from their trip, Meryem and Mustafa wasted no time in turning their idea into reality. They began researching existing technologies, seeking ways to integrate the functionality of a compass and prayer time calculation into a wearable device. They reached out to technology experts, Islamic scholars, and fellow Muslims to gather insights and refine their concept.
The early stages of development were marked by countless hours spent in brainstorming sessions, prototype testing, and gathering feedback. Meryem and Mustafa were determined to create a device that would not only accurately point towards the qibla but also provide additional features to enhance the prayer experience for Muslims.
Kickstarter success
The Qibla Watch idea gained popularity, and a successful Kickstarter campaign was launched to fund its development. With the campaign fully funded, they embarked on building the Qibla Watch, incorporating advanced features and functionalities.
And that's how the idea for the Qibla Watch was born, from a roadside prayer stop in Fukuoka to a successfully crowdfunded Kickstarter campaign, and the beginning of its development.
Countdown Bars and Notifications
Prayer Times at a Glance
Qibla Watch automatically shows how much time is left for your next prayer. Select from a range of beautiful face screens which display either a countdown timer or a progress bar, that keeps you on top of your daily schedule and your prayers with one glance.
Theme selection for the main watch face
Notification alerts are customizable to your preferences, make sure that a haptic vibration is sent to remind you before and/or at the start of the next prayer time. No more missing prayers! 
Easy Location Tracking & Rotating to find Qibla
Qibla Directions with a Swipe and Turn
No more fumbling about with your phone, or waiting for irritating ads to pass before you can see your Qibla direction! 

Our Masjidhub app functions beautifully in tandem with the Qibla Watch. Pinpoint your exact location from your phone no matter where you are, and see your Qibla direction automatically reflected on your watch.
A Simplified Compass Design- Just Like a Little Game!
Tired of complicated compass designs and trying to figure out how to use it? We've simplified the compass design on our app and watch so that anyone- and by that we mean kids as well- can enjoy the little fun of rolling the little ball into the hole and pointing themselves in their Qibla direction. 
Tesbih Counter to Establish your Dhikr Habits
Dhikr Tracking with a Tap
We all know how difficult it is to dhikr when our schedules are so busy and tight. Establishing your dhikr habit is now made easy by simply tapping on the Qibla Watch. The watch syncs seamlessly to the app to record each session's dhikr count and tracks your daily, weekly and monthly progress according to your desired goals. 
Instant Location Sync from App to Watch
Pin-to-the-Point Location Awareness
If you're familiar with some watches in the market now which have a Qibla compass feature, you'd know that you'll have to press multiple buttons to set up your country, then city, then town... (can you imagine doing it every single time you travel?!) 

We're way past that. Your exact location can now be detected directly from the phone and transferred immediately via Bluetooth® to the QiblaWatch, saving you lots of valuable time.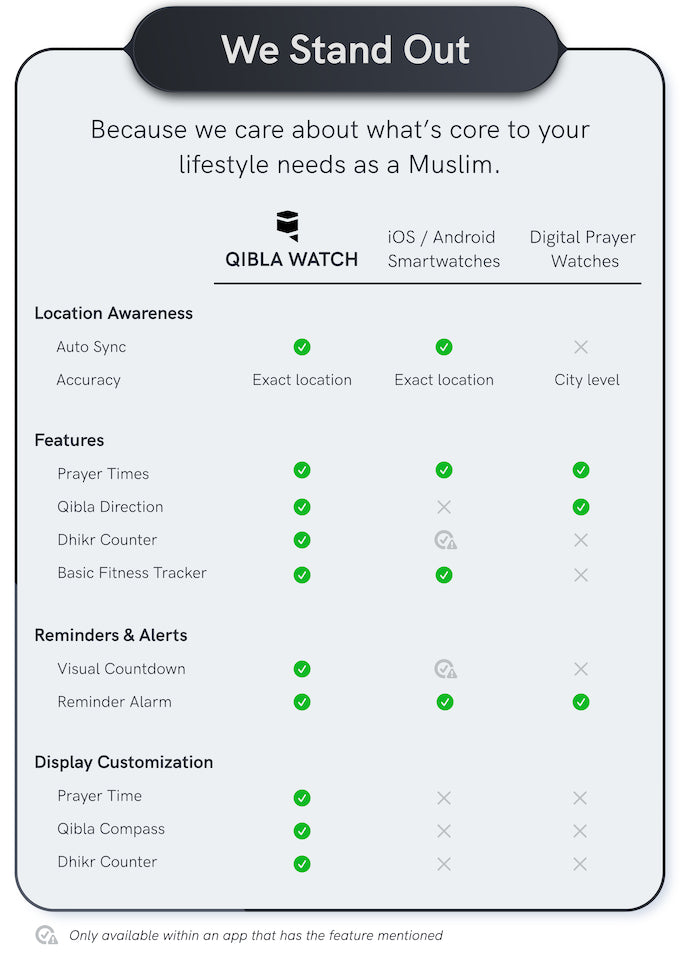 Qibla Watch in Action
Watch how our Qibla Watch integrates effortlessly into the lifestyle of 3 distinct roles in this short clip here:

Watch menu screens- a simple and minimalistic interface
Available in 3 Colors
Midnight, Aluminium & Rose Gold
A Strap for Every Lifestyle
Sports, Leather and Stainless Steel Straps
Take a first look at Qibla watch, straight out of the box.
Dimensions & Weight
Case size: 42mm Weight: 58g 1.29" (32.5mm) Circular Display 240x280 Screen Resolution
Color & Materials
Case: Metal alloy with IP coating
Case colors: Midnight, Aluminium, Rose Gold
Straps: Silicon, Leather
Battery
Capacity: 220mAh Working time: 3-5 days Standby time: 15 days
Connectivity
Bluetooth 5.3
Works together with MasjidHub™ App
(available on App Store and Google Play Store after QiblaWatch™ is released)
Miscellaneous
Heart Rate Monitoring
Sports Mode
Message/Call Notifications