Iftar Around the World
Posted by TAKVA CO.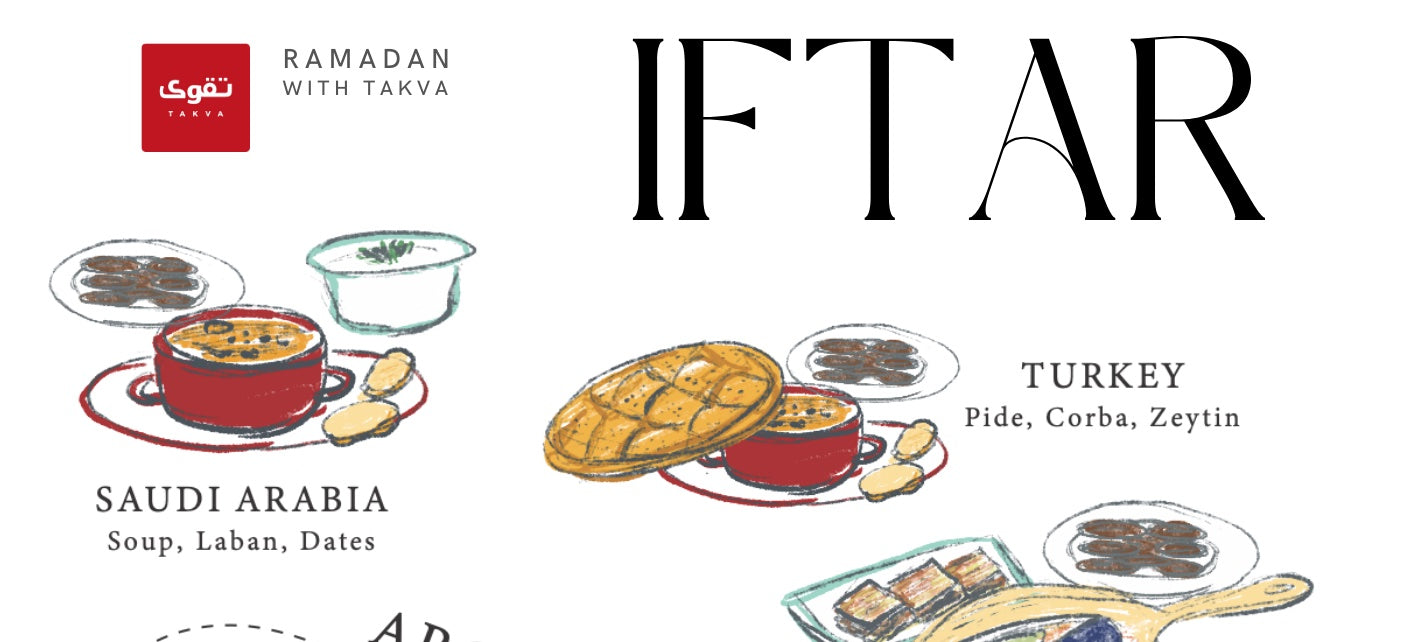 Iftar is a big part of the Ramadan month. Everyone who has fasted for the entire day looks forward to this wonderful time of the day when they can eat their favourite foods with their family and friends. Iftar is regarded to be one of the happiest moments of the day for all Muslims.
Even if there are a few common items consumed by everyone around the world at the time of iftar (such as dates, because it is sunnah to break the fast with a date), we may discover a wide variety of tasty Iftar meals in each country. 
Let's explore what people from the top Muslim countries celebrate their Iftar with!
Saudi Arabia
The main item which everyone in Saudi Arabia begins to break their fast with is dates. This country grows several varieties of delicious dates across the country as an island of date trees. Among them, Ajwa, often known as the "King of Dates," tastes incredibly good but is also quite pricey.
Due to the severe heat in this region of the world, a glass of Laban at Iftar, a traditional yoghurt drink blended with milk, refreshes the body and lowers the body temperature.
Soup is another popular dish served at Iftar in Saudi Arabia. It is not only tasty, but it also offers numerous health benefits.
Turkey
Pide is a popular flatbread in Turkey that is exclusively prepared during Ramadan. It's a boat-shaped bread with a variety of fillings, including ground beef and veggies. Different toppings, such as cheese, spinach, and pastrami, can be added. Adding eggs at the end can give a great flavour boost.
Mercimek çorbasi, a red lentil soup, is another popular dish among Turks across the country. It is simple to prepare but has a lovely flavour. We're salivating just thinking about it right now 🤤
Indonesia
Gorengan; It has different types of fried snacks from banana fitter, vegetable fitter, fried cassava, fried tofu, fried tempe etc. 
The next big item is Kolak, which is a brew of coconut milk, mixed with palm sugar, vanilla, pandanus leaves, and filled with appealing slices of banana, sweet potatoes, and optional pumpkins.
Additionally, Iftar without 'Es Buah' in Indonesia doesn't really complete the Iftar table. Any type of fruit can be combined with jelly, grass jelly, ice, syrup, and condensed milk to make this colourful item. The colour may vary depending on the type of fruit used.
Egypt
Rokak, a meat pastry baked in a hot oven, is simple to prepare and serves as a quick snack at any time. Because of its deliciousness and simplicity, this traditional Egyptian dish is something that everyone looks forward to during Iftar.
Mahshi is another most common dish in Ramadan in Egypt. Using different vegetables stuffed along with rice, it is served among the family members at Iftar time.
Pakistan
Along with dates, Pakistanis eat Iftar with a variety of fried foods such as Alu chap, Kebab, and Pakora, to name a few. People also like to eat Samosas, which are minced meat or veggies wrapped in dough and deep-fried.
If you like sweet dishes, Dhahi baray, Jalebi, and Fruit Chat are must-try delights at Iftar in Pakistan.
Not to mention Rooh Afza, the most soothing and thirst-quenching beverage drank by Pakistanis across the country during Ramadan. The sip of Rooh Afza drink relieves all fatigue and provides life to the body after a long day of fasting in Pakistan's scorching weather.
Malaysia
"Berbuka puasa" is the common term for Iftar in Malaysia which in simple English is called "To open the fast". Traditionally, they also start breaking their fast with dates and water. 
Additionally, Mosques all around the world are well-known for serving Iftar every day throughout Ramadan. There isn't much of a distinction between Malaysia and the rest of the world. In mosques, "Bubur Lambuk," a traditional spiced rice porridge, is offered, and people particularly like this dish, which consists of a mixture of beef, rice, dates, and other ingredients, during Iftar.
During the month of Ramadan, Murtabak is readily available. This multi-flavored packed pancake or pan-fried bread is mostly made of chicken or beef, but eggs and your favourite spices can be added.
Singapore
In Singapore, mosques typically serve "Bubur Lambuk" and sometimes "Nasi Ambeng", where people sit on the ground in a communal circle with rice and dishes food placed in front of them on a banana leaf for sharing. A wide range of traditional foods is also served during Iftar, including epok epok. Epok Epok is a delicacy that resembles a crusted half circle packed with various fillings chosen by the people. 
Singaporeans also like to enjoy Satay made with chicken or beef with dip sauces such as rendang sauce, garlic sauce and so on.
Enjoyed reading this post?
Collection 2019
Sale 70% Off
Title for image