My First Congregational Prayer
Posted by MERYEM CHIN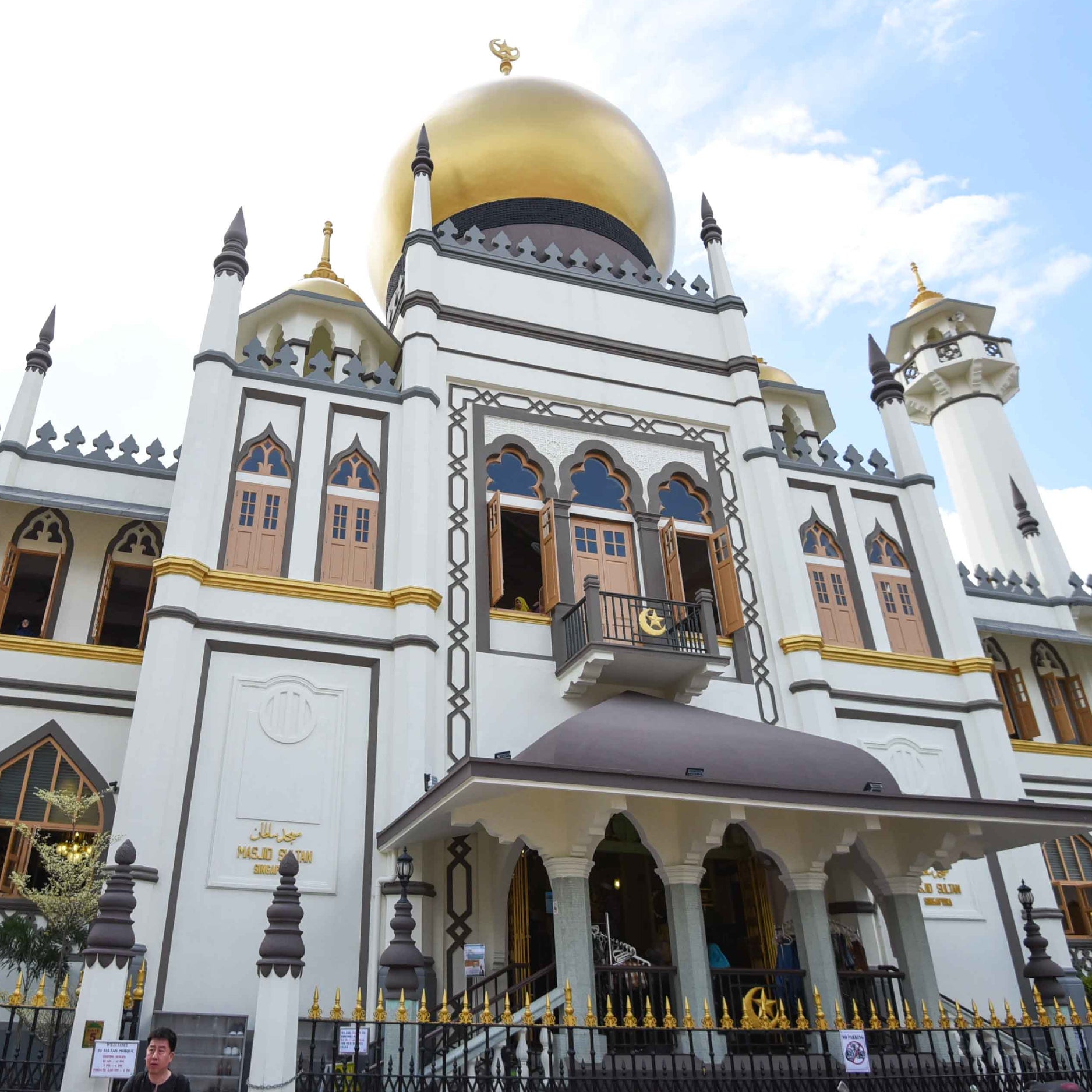 You know, reading so much actually makes me want to start getting up and moving, put everything into action. I actually wanted it so much that I dreamt of learning doing dua (prayer) while I was sleeping and, the next day, I asked my friend F about getting an Abaya and a prayer rug (so that I could start doing the solat I have read and seen so much about) because after all, you never really know about it until you experience it yourself.
And then unfortunately me being the super giam-siap (stingy) girl that I was, I eventually didn't get my Abaya AND prayer rug (the nice ones were $75-100!). Looking back, I SHOULD have just gone and bought one, now I STILL can't do solat without it :< ok, I have to go again!
But what I did do, was my first Maghrib congregational prayer. My first prayer, at the Masjid Sultan at Arab Street. It's really a beautiful masjid, with a golden, onion-shaped dome.
We went in 10 minutes before prayer, and Farah was telling me we have to do our ablution first. Say bismillah, I'm doing it for Allah. (This is another simple thing I love about Islam, everything starts with an acknowledgment to Allah.) Then hands, arms, face, scalp, ears, feet, all washed with water. I think my pants also was kinda doing it as well since I was dripping with water everywhere. Well, the first is always the messiest.
Then we went into the main prayer hall, and to the second level where the women would pray. (Another thing I love, men and women separated. It's something you would never get to experience in a Church, and it's really good because it takes all forms of distraction away and you just focus on praying to Allah).
They provided abayas there in the mosque so I kinda struggled into one. F was going, "hair! hair! hair!!" because my messy hair was not flying everywhere and I couldn't get it under the hijab.
Then we stood all together, shoulder touching shoulder. Didn't matter if you didn't know the person beside you. Just the feeling of all praying together... the closeness of it all...
And then Surah Al-Fatiha was recited. I knew it at once because I'd been hearing it while reading my Quran app. Then you know how everyone says you cry when you finally find your own revelation? They aren't lying. I found it there. The feeling cannot be put into words. At best, it's like finally finding someone, something you've never known you've lost.
Even though I couldn't understand the words being recited (yet). Even though I was trying more to get my posture right, and saying "Bismillah" (In the Name of God) and "Allahu Akbar" (God is the Greater) - the only two things I know how to say at the moment, somehow my heart was beating so fast, and yet I felt so calm, because I knew I finally righted myself.
After the guided prayer ended and I was doing my own prayer, I could only thank God for helping me find Him. And I knew I'd still continue to find Him.
*Cover photo credits: Channel News Asia
Reviews (2 comments)
Collection 2019
Sale 70% Off
Title for image