Ana | Japan
Posted by THE NEW MUSLIM CO.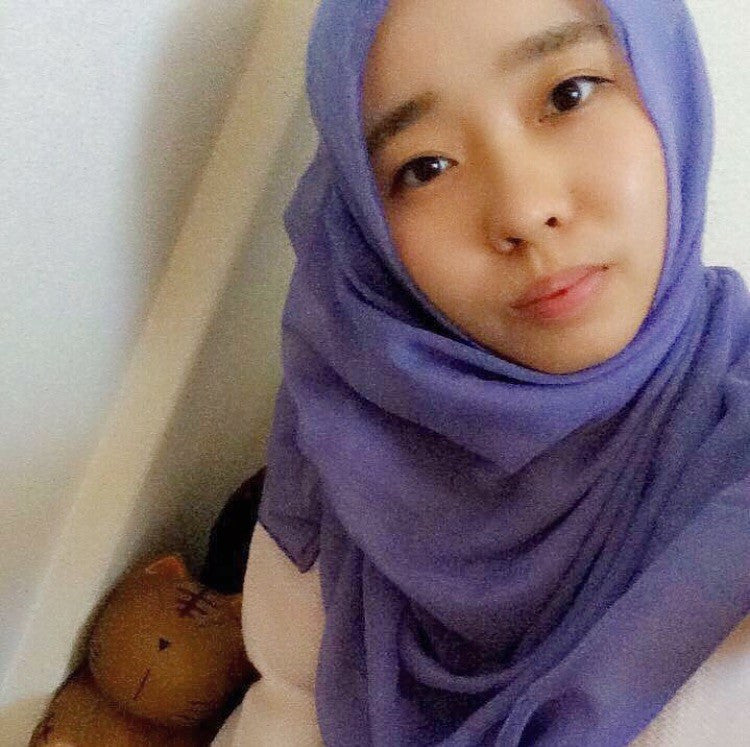 Ana says she is not (yet) a muslim. When I talked to her, I realised that she has the 'gambaru' attitude that we see in most Japanese- the will to strive for perfection in everything they do. Everything must be done to the best of their ability. For Ana, she wants to make sure that she can perfectly commit to Islam's rules, before she converts. Insha'Allah, she will.
*UPDATE
After 4 months since she told us her story, Ana has reverted to Islam on 21 March 2016. Allahu Akbar! May Allah continue to make it easy for her in her learning and striving to be a better muslim in her journey ahead, insha'Allah. Ameen!
---
I think I had a chance to believe in Allah since I was teenager, for 3 reasons. let me tell you why. xD
I don't like to drink alcohol. When i drink it, I will always get a headache. And now, i avoid eating pork too! *practice practice!
I have never liked wearing tight clothes or pants in public. I don't know why but when I imagine wearing like that in public, I get a feeling… I can't explain this feeling… but it made me not want to wear.
After I got interested in Islam, I realised that, "Oh, I always get this feeling because God is trying to protect me from something bad."
So, whenever I wear hijab outside the house, I cover my aurat perfectly
For example, cover breasts perfectly, cover my foots perfectly… even it's hot or not, I always wear long socks n sneaker… and I never wear pants when I wear hijab! (Editor: she wears long skirts) 
My name is Ana.
I heard in arabic, "ana" means "me"… "ana ana" أنا آنا1st and 3rd reasons sound small but i'm glad it has gotten me interested in Islam!
My Malaysian friends changed my thoughts about Islam
When I was younger,  I thought muslims were terrorists and I was afraid of muslims because the women always wore hijab/niqab and long-black clothes, and I could only see their eyes or faces.
4 years ago, I took part in a Japan x Malaysia interaction project in high school, and I made a lot of Malaysian muslim friends. They told me a lot about the teachings of Islam kindly. For example, muslim women wear hijab and long clothes to protect themselves. I soon realised that the hijab is really beautiful so i'm became not afraid at all.
When I misunderstood about Islam and asked my Malaysian muslim friend, "Muslims are terrorists, right?"
Do you think he got mad?
No〜〜〜 He didn't get mad, and told me kindly about the real Islam , how Islam is beautiful. 
then I was embarrassed and I realized too that I was misunderstanding my friends too…
Why I've not converted to Islam yet…
I'm really worried~
I've not told my family that I want to convert to Islam someday, and my relatives are all having misunderstandings on Islam, so I've got to tell them too!
I'm also working at a public childcare from this April. I've never seen a muslimah who's working at a public childcare place. If I convert to Islam, I don't want to be lazy about anything for Islam. I want to wear hijab to work, I want to fast, I want to avoid eating pork. But now it's hard because we have always been taught since young that we must "always eat lunch with a smile and be in a good mood when eating with friends and teachers".
I just want people to know muslims aren't terrorists. Lots of people trust media too much… ISIS also makes them confused and afraid of Islam …
I really, really want everyone to know that Islam means peace. <3
If I convert to Islam, after that, I want to tell about Islam to people who don't know well about Islam. How great Islam is, too.
So now, I think I have to study Islam harder! xD
Ana has some questions about Islam…
Ana's never felt God's existence and doesn't know how to believe in God.. But she also has the feeling that God is still around.
Ana also wonders why do muslims wipe their faces after dua?
If you have an answer to give her, please leave a comment here. She'll read it. Jazakallahu Khayrun.
Reviews (15 comments)
Collection 2019
Sale 70% Off
Title for image